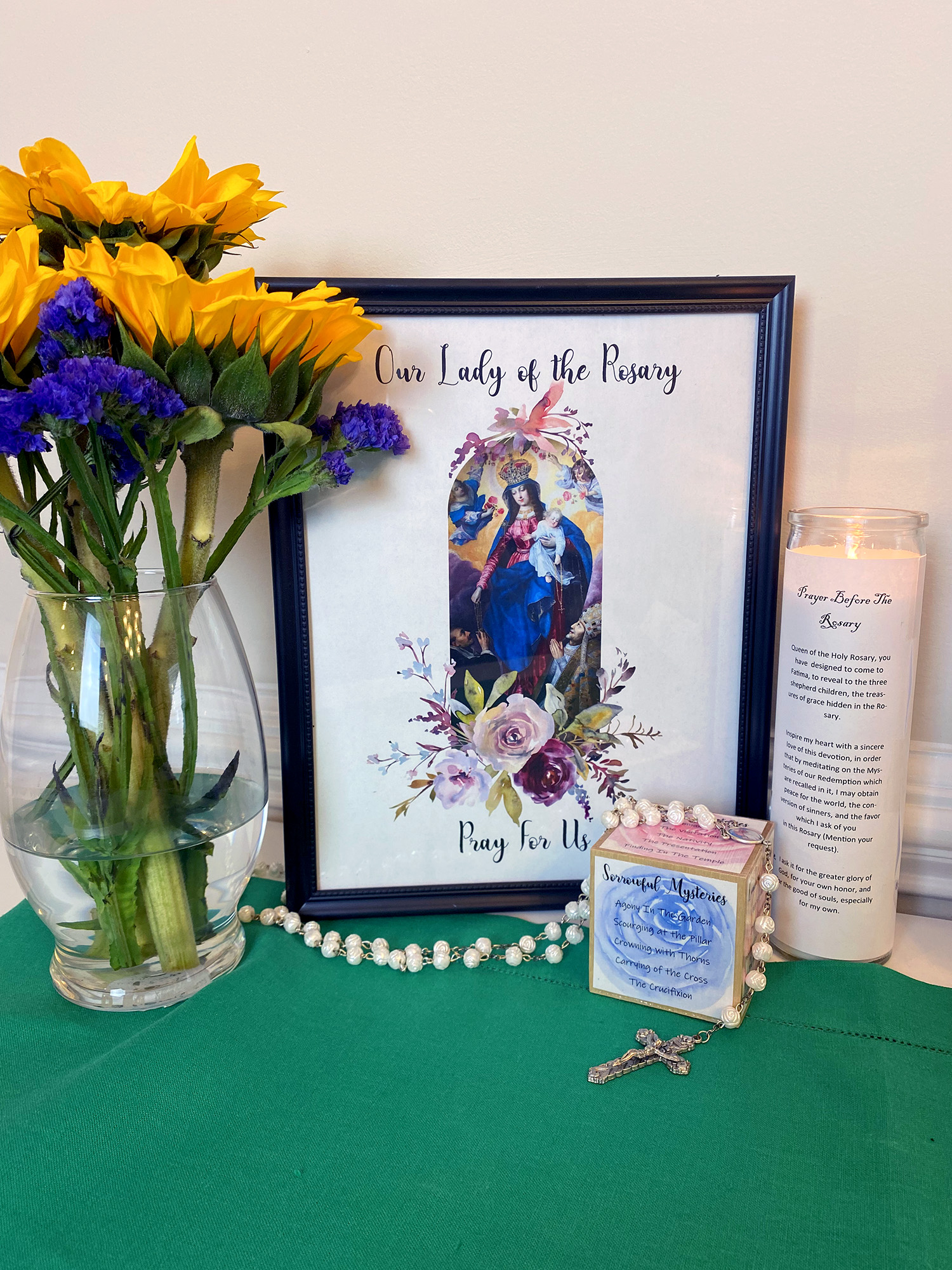 Celebrate the Liturgical Year the Easy and Affordable Way
Have you always wanted to celebrate the saints and live the liturgical year more fully in your home or classroom but feel overwhelmed by it?
Maybe you don't have the time to pull it all together.
Maybe you feel like you aren't even sure where to start.
Or you might have tried to do it before but then life got in the way and you still had your March decorations up in July.
We've been there and we understand!
When you join the Catholic Icing Monthly Membership, you'll get access to new printables before the start of each month that are perfect for your home, family, and children.
What to Expect in Your Monthly Membership
Lacy (Catholic Icing) and Angie (Real Life at Home) are so excited to share this new membership opportunity to help you live the liturgical year in your home or classroom.
There will be a brand new pack to download each month!
Each month you will get stocked with things you need to celebrate the liturgical season, saint feast days, monthly dedications, and more.
Every month, you'll be able to download:
Home Altar Printables - These beautiful decorations can also be displayed around your home if you don't have a home altar or prayer table.
Family Activities Printable - This is a page of easy activities you can do with your family during the month to celebrate feast days and other observances.
Fun learning activity pages for kids -

There will also be a saint mini book that is easy to print and fold. There will also be at least 10 additional pages

featuring saints and feast days - these may include pages such as a saint mini report, word searches, crossword puzzles, handwriting pages, crack the code pages, and more. Each month's pack will include printables for a variety of ages.
Coloring pages - There will be five coloring pages each month with featured saints as well as quotes from saints or Bible verses that are used in Mass readings that month.
Saint and Liturgical Year Crafts - This includes items such as saint blocks, rosary block, and saint paper statues.
Additional Resources - There's no need to seek out lots of other resources. We'll give you a list of other resources to visit if you want to add even more to your month.
You'll also be able to download a starter pack that includes other items for your home altar, such as a perpetual calendar, liturgical season block craft, and more!
The October 2021 Pack plus the Starter Pack include a total of over 90 pages! This membership is a wonderful resource and it's very affordable!
To help you, there are videos and directions from Lacy and Angie that you'll be able to access as well.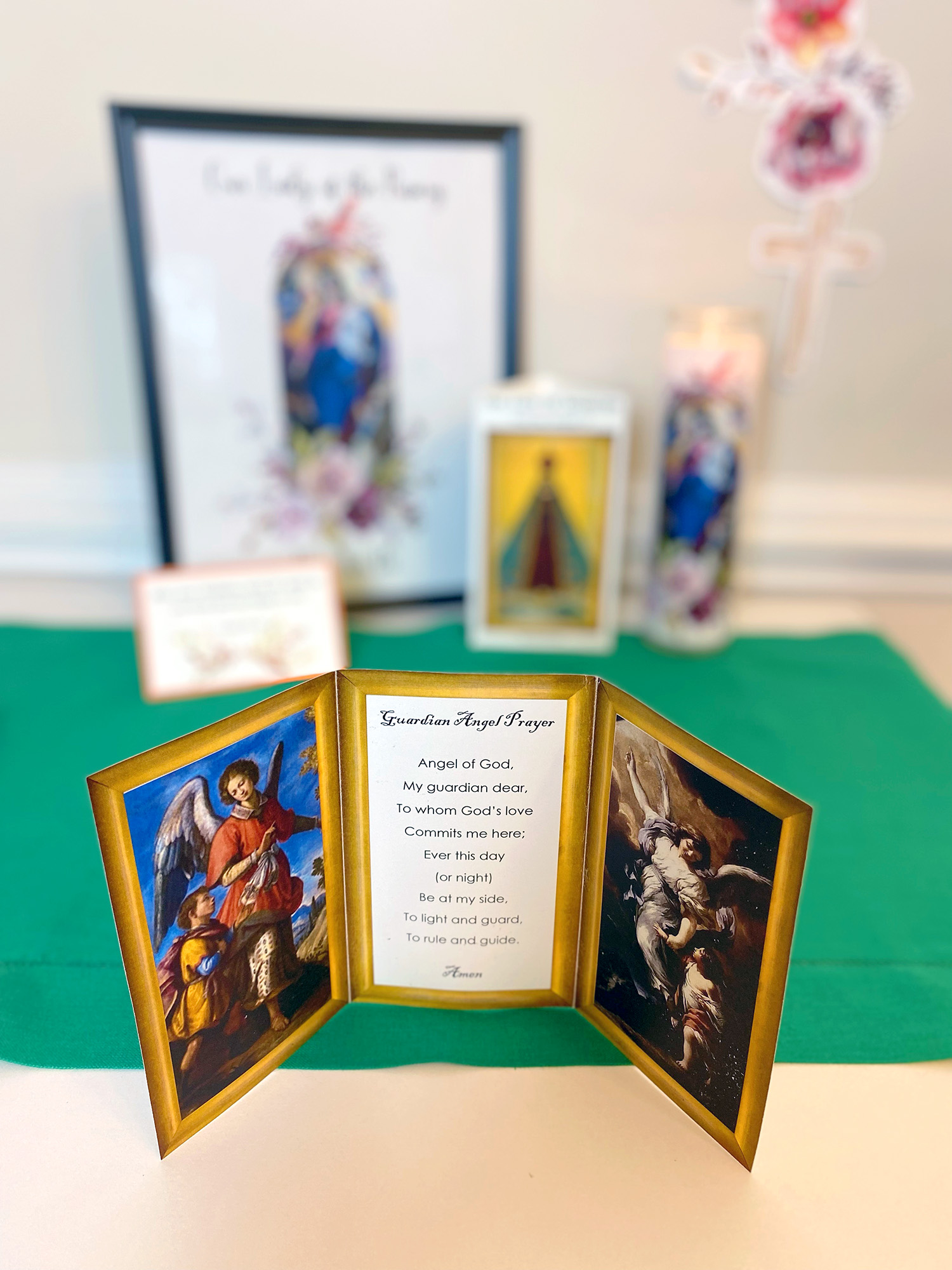 Each month you'll receive beautiful printables for your home altar, prayer table, or you can spread out your pieces throughout your home to decorate. If you have always wanted a home altar but have been intimidated by the thought of keeping it updated, the Catholic Icing Monthly Pack Membership will make it easy and doable!
Activities and Coloring Pages
In addition to all of the other printable resources in the monthly pack, each month will include five coloring pages, ten pages (or sometimes more) of printables for kids, and a one page foldable mini book. These pages are great for using at home or school!
Each month you'll be able to download multiple crafts, such as these printable saint statue crafts or block crafts featuring saints or liturgical seasons. Combine hands on crafts with learning about saints to help your children or students grow closer to the saints and their faith.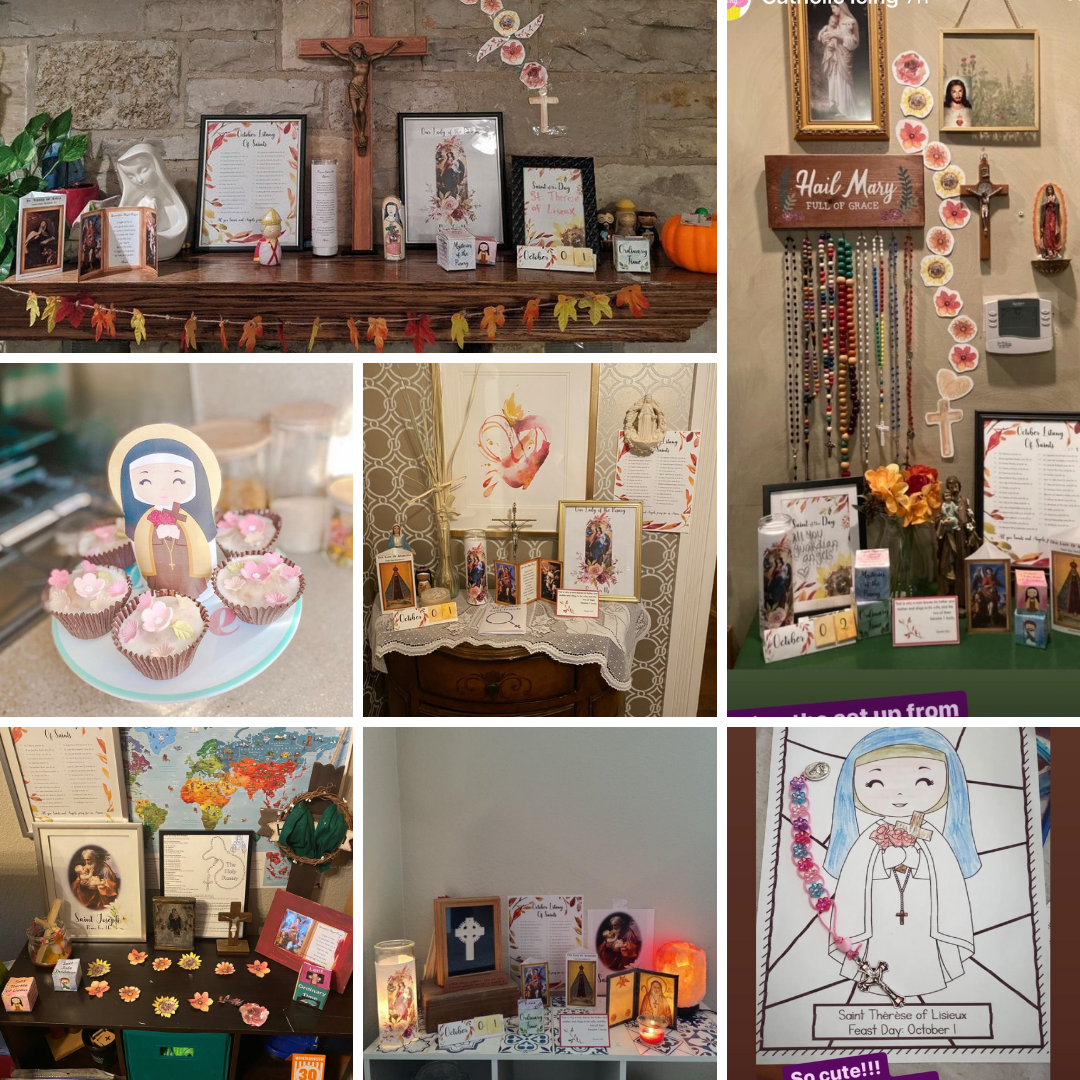 Some of the Ways Members are Using Their Printables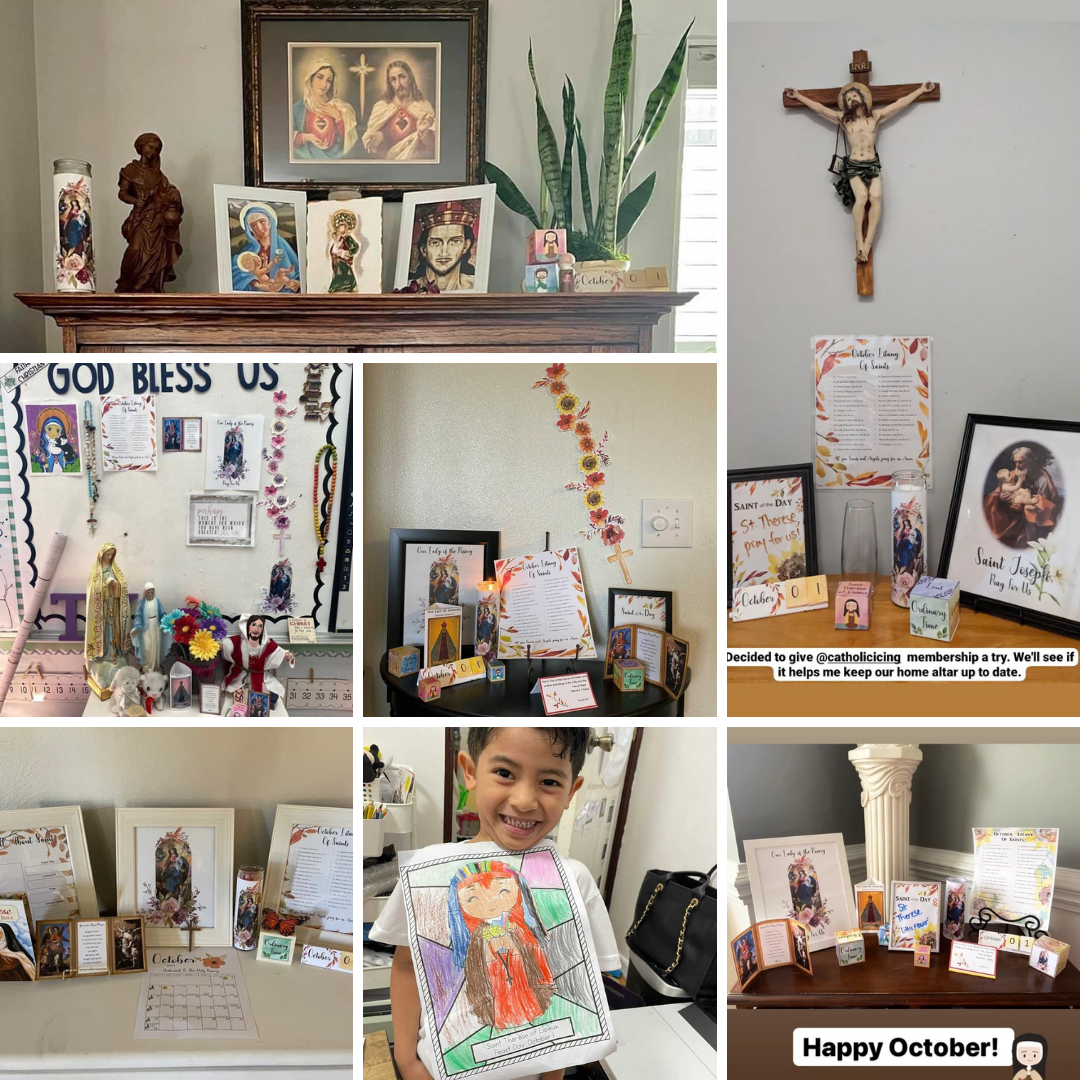 What You'll Receive in Your October 2021 Pack
Each section contains printables you can download and use. Some sections also include pictures and videos to share more about the items in that section.
Available in days

days after you enroll

November 2021 (If you still need October printables, keep scrolling and get them before October 31st)
Available in days

days after you enroll

October 2021 (Be sure to grab these before October 31st - they will be gone on November 1st)
Each Monthly Kit is Only Available for One Month
Don't miss out on a single month!
Each monthly kit will be available at least one week before the beginning of a new month to help you have time to print your materials and get ready. You will have access to download everything until the end of the month that kit was made for.
Your past kits won't go to waste - we have ideas for how to keep using the materials you print out!
If you miss out on a kit that you want later, you'll have to purchase it at a higher price because kits will not be repeated.
So, don't wait!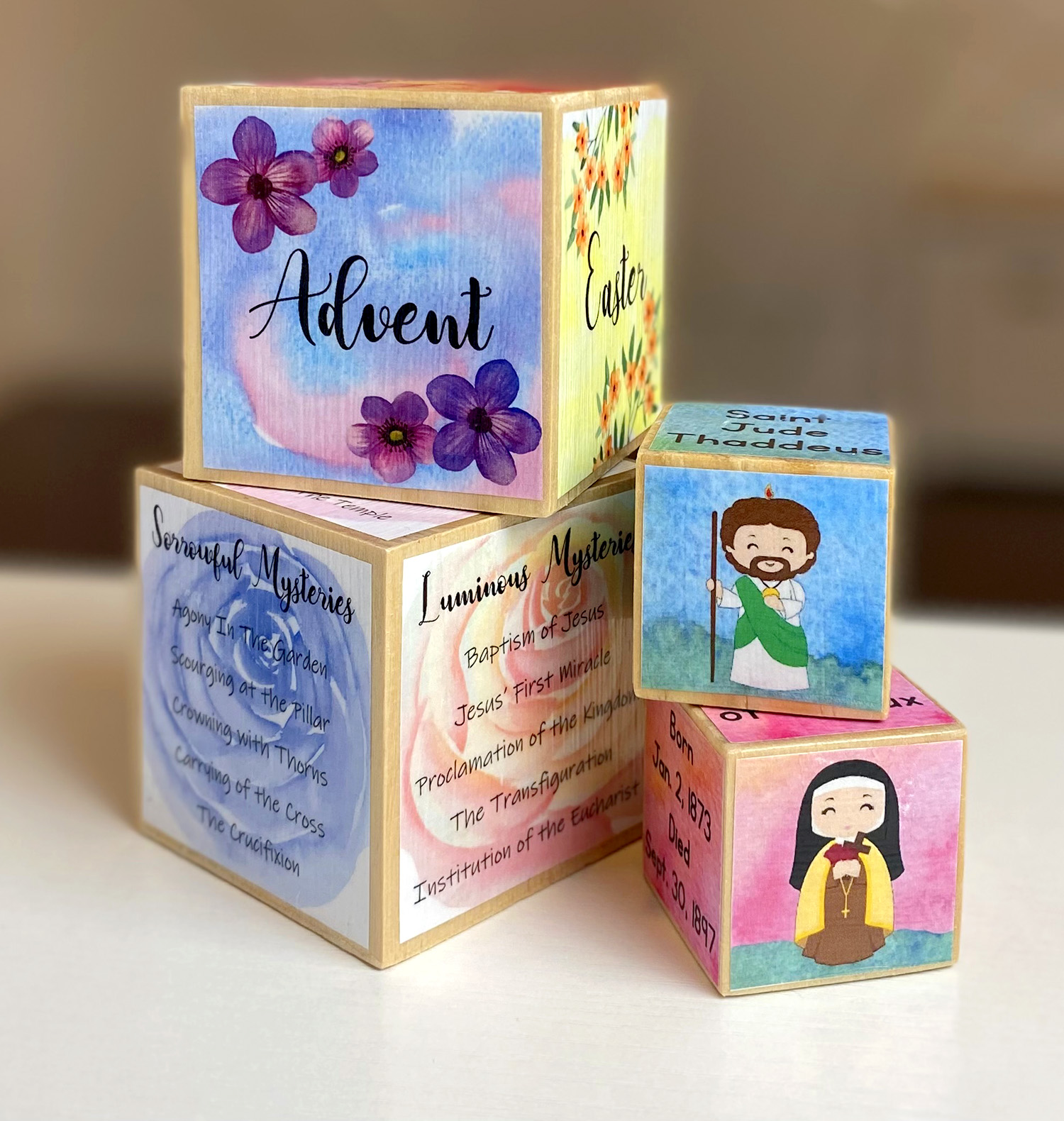 Hear What Others are Saying About Their Membership
"WOW. I am absolutely blown away. Angie and Lacy have done it again! This membership makes things super easy to help my family live liturgically. No more wasted hours spent scouring the web-you just click and go! My favorite part is the monthly Saint Mini Book. I love that the worksheets are geared toward different age groups too." - Sam from Cultivating Catholics
"The membership looks absolutely beautiful! We are really excited about starting October with our liturgical month already preplanned. Thank you for creating this membership!" - Kim R.
Looking for a fun drawing course for you and your kids?
Make your own Jesse Tree ornaments this year with this video how to draw course!